Are You Desperate For Something To End Snoring?
Snorblok is New Zealand's leading supplier of anti-snoring products. End of story!
We carry the largest range, simply because everyone is different. Snoring remedies just aren't a 'one size fits all' type of thing and it is important that YOU find a solution that works for your circumstances.
Not only do we have the largest range, but we also have the BEST products, some of which carry a full 100% Money Back Guarantee.
OUR MOST POPULAR AND SUCCESSFUL PRODUCT IS THE SNORBLOK NITEPRO MOUTHPIECE
Read more below...
The Snoreblok NitePro
The Snorblok NitePro is a clever anti-snoring mouthpiece that is technically known as a Mandibular Advancement Device.
This simply means that it advances, or moves the lower jaw forward, when it is worn during the night.

Science has shown that this can severely reduce or even eliminate snoring in most people.
ELIMINATE SNORING OR YOUR MONEY BACK!
IT WORKS! Snorblok NitePro success stories...
This is rather embarrassing but I'm wanting to share my experience in case it helps someone. 
I'm a terrible snorer 😳... I have a narrow passage that causes my soft palate to vibrate against the back of throat loudly. I've used strips, sprays, mouth guards and had radiotherapy surgery (which was painful and expensive) to try and rectify my snoring ... nothing seemed to work 😩
Last week I purchased a Snorblok NitePro... It cost $97, offered free shipping and a money back guarantee. I thought, what do I have to lose? If it doesn't work or it is uncomfortable I'll just send it back for a refund. Well, last night I moulded the Snorblok nitepro to my teeth and gave it a try and to my utter surprise, astonishment and relief IT ACTUALLY BL..DY WORKED! I've attached my results from the SnoreLab app to show the difference. The left pic being the "before" and the right pic being the "after". Amazing right ? I'm super happy! 
If you struggle to sleep with a loud snorer or are a loud snorer yourself, give this a go. You can monitor your own results with the SnoreLab app which you can download for free.

Tracey Tamahere
This review is for the nitepro anti snoring mouthpiece which I highly recommend! I had tried a variety of other things to reduce my snoring, such as sprays and nasal strips, other top only mouth pieces and wedge pillows and none of them have worked - this did.

I was a mild to medium snorer, but this almost completely eliminates it. It does take a little bit of getting use to though, and your jaw might be a bit achey after the first few tries.

Chris (TradeMe Customer)
THE NITEPRO - Amazing Before & after results
BEFORE
Using the SnoreLabs App, Tracey's Snoring registered a score of 96 and was described as EPIC!
AFTER
Tracey purchased the Snorblok NitePro and on the first night the SnoreLabs app recorded her score as 1!
How amazing is that!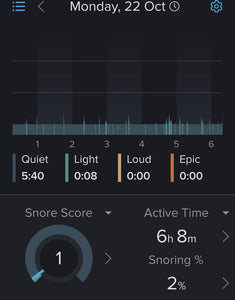 MOre Happy nitepro customers...

kylem - Trademe Customer
Very happy. I was super sceptic about an stop snoring aids. But I am amazed. Stopped snoring overnight. My wife is so much happier not wearing earplugs. Very reccommended.
chris300 - Trademe Customer
This absolutely 100% works - thanks so much for the decent night sleep.
Ross H - 4/05/20
Received my Snorblok nite pro 2 days ago. Very prompt service thank you.
The results are amazing. Instant silence. My wife had to poke me to make sure I was alive. 
A great product thank you. We are both delighted.
CUSTOM FITS - FULLY ADJUSTABLE
It is important to note that as everyone is different, the reasons for snoring also differ. Results with anti-snoring products can also differ greatly meaning that some people prove reduced noise, while others can stop snoring completely.
The trick with the Snorblok NitePro is that when you have moulded the NitePro to your teeth, you are able to adjust the amount of advancement in 1mm increments so that you can find the position that best works for you.
This cannot be done with most other Mouthpieces which are made from cheap inferior quality materials.
WHAT OUR CUSTOMERS ARE SAYING....
Received my Snorblok nite pro 2 days ago. Very prompt service thank you. The results are amazing. Instant silence. My wife had to poke me to make sure I was alive. A great product thank you. We are both delighted.

Ross Hardley
Thank you. If anyone is wondering if the mouthpiece actually works - it does!! Hubby has even said his nose is no longer blocked in the mornings as well

Customer from Fielding
Thanks for a great trade. Earplugs are of excellent quality will trade with again cheers

Customer from Manukau City
Item arrived yesterday, exactly as described. Very prompt shipping and very happy with the product, thanks so much!!

Customer from Auckland City
Great product (NitePro), getting a replacement cause I use it all the time but have had it over 9 months and use every night. Speedy shipping and arrived quickly.
Thanks heaps! 

Caitlin
I was a bit sceptical buying the SNORBLOK TSD compared to similar devices listed on Trade me for over $100, but have been pleasantly surprised - it works really well. I installed the SnoreLab app on my phone and without the device my snore rating was 24, using the device has reduced my rating to 4 !! 

Morgan, Orewa NZ
Thank you so much Campbell. The mouth guard has been a lifesaver and I have recommended it to heaps of friends with husbands that snore. Thanks again.

Marcelle
Hi,
I am 7 days post op from a knee replacement and having to sleep on my back was causing me to snore badly as I normally sleep on the side, I tried the snorblok for the first time and wow what results for the first night without any adjustments and dealing with the night pain, this product is incredible and once I get comfortable wearing it my snoring will stop and ,I wish I had foundyears ago! Very happy with it .

Adrian Fitzgerald
DENTIST GRADE BRUXISM GUARD - WITHOUT THE DENTIST BILL
For less than the cost of a dentist visit, you can achieve the same results as dental professionals - in the comfort of your own home - potentially saving hundreds of dollars!
Proven in lab tests to last 6 X longer than other competitors, the SleepRight® Dura-Comfort's patented 'Autofit Technology' features hi tech materials.
No Boiling! No moulding! Designed to adjust to any size mouth and use straight out of the box. The ultra tough Bite Pads swivel to fit your bite angle for all-night comfort.
Made in USA, these bruxism guards are sold by dentists worldwide. Save today - buy direct from the importer.
BUY NOW & SAVE
is hayfever or bad air quality making you snore?
WE HAVE THE ANSWER!
A REVOLUTIONARY AIR PURIFIER THAT CAN REMOVE AIR IMPURITIES DOWN TO 10 X SMALLER THAN A HEPA FILTER
- SAVES $100'S with no expensive replacement filters (some HEPA filters cost over $120 each).
- SUPER ECO FRIENDLY with patented TPA washable filters. No disposable filters going into landfill (remember 1 HEPA Filter = about 70 plastic bags).
- SUPER QUIET at only 22dB its quieter than a whisper
- FULL CONNECTIVITY with wifi, bluetooth, iOS and Android apps. Full control and air quality reporting available on your phone.
- IT'S FAST and can clean a 20sqm bedroom in only 15 minutes
THE AIRDOG X3 AIR PURIFIER IS ONE OF ITS KIND - THERE IS NOTHING ELSE LIKE IT IN NEW ZEALAND.
WATCH THE VIDEO ABOVE AND CLICK HERE TO ORDER NOW - LIMITED STOCK AVAILABLE
AFTER SOMETHING DIFFERENT? CHOOSE FROM OUR FULL RANGE!
TRENDING SNORING & BRUXISM ARTICLES
---
What NOT to eat before bed!
To help minimise snoring, it is best not to eat any food up to 2 hours before bed, especially dairy products, sweet treats, and dare we say it, caffeine and alcohol.

These types of food and drinks tend to increase the amount of mucus that gathers in the throat at night, irritating the throat tissue and blocking the airway.